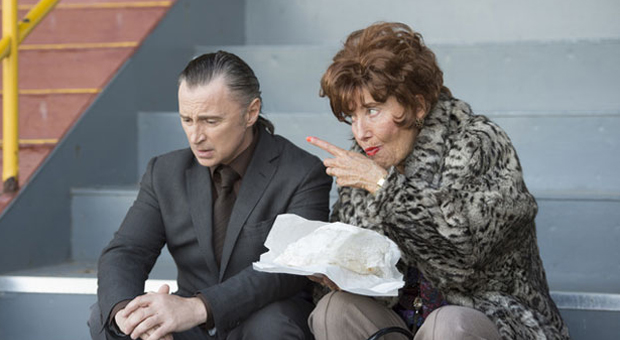 Scotland's own Robert Carlyle makes his directorial debut with this delightful jet-black comedy about a downtrodden barber whose mundane life is turned upside down when he accidentally turns killer. Carlyle also plays the lead role as mild-mannered Barney Thomson, an old- fashioned barber who is slipping down the pecking order in the Glasgow barber shop where he works. After an accidental killing, he turns to his hilariously fierce mother (a quite wonderful Emma Thompson) for help.
Based on a novel by Douglas Lindsay – the first of seven books about Barney Thomson – the film was shot in Glasgow, with the city a vibrant and vital backdrop to the hilariously black story. Locations include the East End (where the barber shop is located), Shawfield dog track and the Barrowlands, which doubles as the bingo hall where Barney's controlling mother Cemolina spends quality time. Emma Thompson is a revelation as the mother, complete with Glaswegian accent and a serious amount of make-up to help transform her into a truly memorable character.
The strong cast also includes Ray Winstone (as a fish-out-of-water London copper exasperated by his Scottish police colleagues), Martin Compston (as one of Bobby's hairdresser rivals) and veteran actor Tom Courtenay (as the police chief baffled by a serial killer who is mailing body parts from a series of different Scottish tourist spots). The Legend of Barney Thomson is a deliriously dark comedy to be cherished…plus, make sure you stay on for the hilarious outtakes over the credit reel.